HOW IT WORKS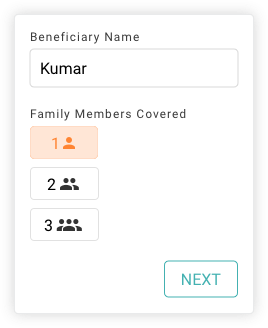 STEP 1
Choose your beneficiaries and their family members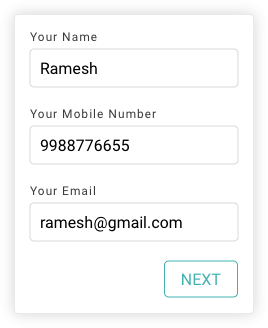 STEP 2
Enter your basic details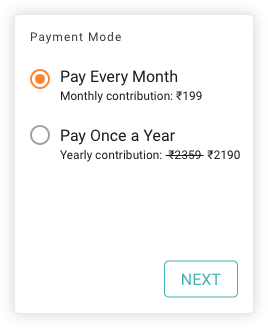 STEP 3
Set up your payments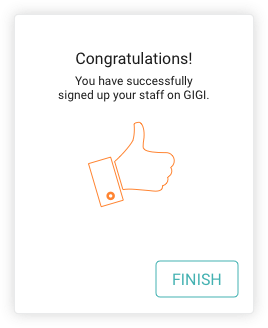 STEP 4
And you're good to go!
---
FREQUENTLY ASKED QUESTIONS
What is GIGI Benefits?
GIGI offers financial solutions for gig workers and freelancers, particularly those who don't have PF/ESI.
What are the benefits available on GIGI benefits?
Every user is matched with a set of default benefits curated by GIGI. These include simple savings, financial education, skilling, insurance, etc, which are available as a package on the app.
Who can use GIGI?
The GIGI app can be used by any gig worker and freelancer, who is looking for financial solutions that complements the variable nature of their income.
How will the employee access the information to use this insurance?
We will send them an SMS with a link to the policy, and email you a copy of the same. We will also call them to explain the features to them, and make sure they have our customer care number handy.
What if my employee is also working elsewhere – can both employers jointly contribute?
This feature is coming soon!
How do I pause or modify the policy?
If you want to pause or modify your subscription, please email hello@gigibenefits.com
Can my employee pay for full/part of insurance herself?
Self service portal is coming soon! If you don't want to sponsor the full amount, you can still sign up your employee on GIGI and work out a payment arrangement with them.
How can my employee claim the insurance?
Our partner insurer has a cashless network in 5000+ hospitals in India, including all major chains like Apollo, Columbia Asia, etc.
Can I choose the insurer?
Coming soon! We have currently partnered with one of India's most trusted health insurers. We will soon expand to covering more options.
How do I pay for the insurance policy?
You can either pay upfront for the whole year or set up a monthly subscription via your credit or debit card.
---
ABOUT US
GIGI creates financial solutions for the 150 million freelancers and gig workers in India. Fewer Indians are choosing traditional 9-5 full time employment. As the nature of employment changes, benefits (such as PF contributions, ESI/group insurance cover, and pensions) which are today inaccessible to a majority of Indians, also need to change. We're redesigning benefits with the needs of the worker in mind: Our benefits combine flexibility, affordability, and resistance to income volatility. Since 2019, we have been working with cab drivers, delivery partners and other gig workers. Today, we are the first in India to launch a simple, monthly, health insurance plan, that mimics an ESI model. This is ideal for households and small businesses to cover their staff. GIGI works with multiple large blue-chip companies, serving their contract and gig workers. Our Android app helps gig workers choose their benefits and access them easily. If you are a business looking for affordable, high quality financial solutions for your staff, email us at hello@gigibenefits.com
---
OUR TEAM
---
OUR PARTNERS
We partner with top product manufacturers in financial services, professional services, healthcare and other categories to curate affordable, high quality benefits for our customers.